Featured Projects
CASE STUDY – Cinegy Accelerates SupraPixel Production with TURBOCUT and Daniel2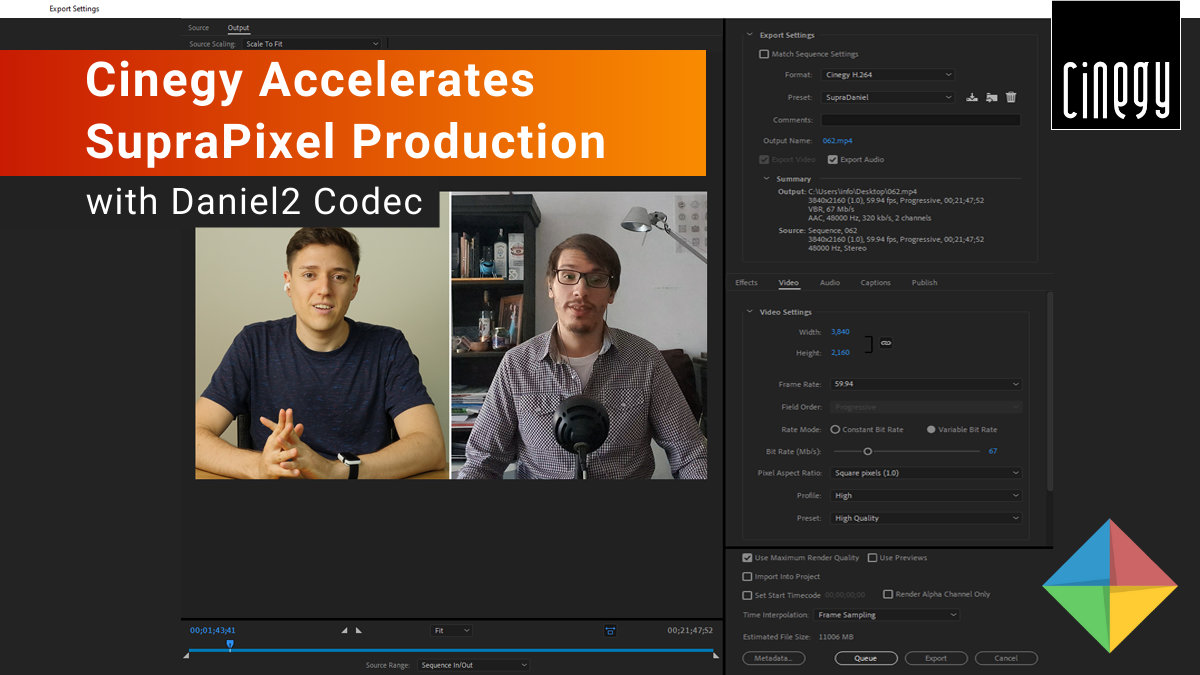 Background
SupraPixel, based in Buenos Aires, Argentina, was created to be the Spanish-language reference multimedia channel on YouTube for technology enthusiasts.
The company's overarching mission is to provide every Spanish-speaking person with the latest technology news, objectively providing the most professional and complete analysis of mobile communication products from a marketplace point of view, but with objectivity and humour.
Its technical aim is to establish and maintain production values that are comparable, or superior to, those of international references but that is where the company was experiencing difficulties.
The Issue
SupraPixel had not received the performance it needed out of Adobe Premiere because whilst Premiere does support the NVIDIA 2080 Ti graphics card SupraPixel uses, it only did so for playback acceleration and some GPU accelerated effects (up until Premiere Pro V14.2). The Intel® Core™ i9-9980XE processor installed in SupraPixel's workstation had to do all the work via software encoding.
The Challenge
Because SupraPixel was unable to resolve the roadblock with Premiere, it considered switching to DaVinci's Resolve from Blackmagic Design, which does support GPU-based encoding with the exact same hardware, or simply trying to update their version of Voukoder, an independently developed encoding plugin, to see if that would help.
However, while still searching for a solution, SupraPixel President Nicolás Fischman saw a video that compared Voukoder with Cinegy's Daniel2 and decided to give it a try.
He's never looked back.
TURBOCUT with Daniel2 to the Rescue
First introduced in 2015, Daniel2 remains widely acclaimed as the world's fastest acquisition and production codec. Despite its position at the pinnacle of codecs, Cinegy has continuously added new features to further improve its already unparalleled performance. One such feature, added several years ago and recently upgraded and renamed as TURBOCUT, is the ability to export to H.264 and HEVC directly from Adobe Premiere or After Effects. As SupraPixel discovered, that means that even an entry-level desktop or laptop PC can export HEVC video in 4K UHD, or even 8K and beyond if they have the appropriate NVIDIA graphics card.
Daniel2 can also work on systems without GPU, running very efficiently and fast on CPUs alone, either on servers or virtual machines without GPU. However, for those who desire the highest of high-end systems, a combination of the two, both using Daniel2, is the ultimate way to eliminate frustrating processing bottlenecks and accelerate workflows. The use of NVIDIA GPUs is also the most power-efficient way to encode/decode H.264 and HEVC, which is very, very difficult to rival using CPUs alone.
Game Changer
According to Fischman:
"The Daniel2 codec is astonishing. Rendering now seems like it's a billion times faster and, even better, we no longer live in fear of having to completely re-render an entire piece of content to fix one minuscule error, which has made a huge difference to our workflow efficiency. Even after Premiere Pro's latest update, Daniel2 based encoding is still the fastest option for rendering."
Added Benefit
Another benefit to SupraPixel is that in addition to ultra-fast rendering, using Daniel2 means that 4K MXF profile proxies can be easily edited on a fairly basic Core i5 7300HQ gaming laptop, which has huge implications for portability and productivity.
Why Cinegy and Daniel2?
Fischman said, "There are many reasons to choose Cinegy, but we only needed one to make up our mind. Daniel2 enables the best use of CPU+GPU resources for an NLE. Period. Even if you have smaller, lower powered machines that you only use as a file server for proxies, Daniel2 is still ideal. No matter how you deploy it, you can't lose."
Fast Forward
In the meantime, Cinegy has raised the bar yet one more level and the new TURBOCUT plugin for Adobe CC also uses the hardware acceleration of the NVIDIA GPU to dramatically improve editing the H.264 or HEVC video formats. This becomes ever so more important as cameras ranging from GoPro action cameras, over smartphones to high-end DSLRs record video in these formats natively. Editing these on e.g. a laptop with Adobe Premiere so far was sluggish and painful. But if the laptop is equipped with a NVIDIA GPU, then adding TURBOCUT will dramatically speed up and come to rival the performance of high-end workstations.
Summary
By removing the rendering roadblock through the use of Daniel2 and TURBOCUT, SupraPixel can focus on its larger aims, i.e. to generate even more high quality Spanish-language content and expand its market reach for technophiles throughout the Spanish-speaking world, particularly the Americas and Europe.
Fischman concluded, "The only thing holding us back was our constant battle with render times. To be successful, we need to push content to our channel every day and the slow render times we were experiencing with our NLE was greatly frustrating our ability to do that. But no more. With our magical Daniel2 plug-in, TURBOCUT, we can now meet our targets with ease."
Check out SupraPixel's YouTube video here (in Spanish) which explains in detail how to edit videos on your laptop using TURBOCUT with the Daniel 2 codec.
Best for Last
The price of TURBOCUT powered by Daniel2 for Adobe CC is unrivaled: it is free.
It can be downloaded at: https://www.turbocut.com
###
About Cinegy
Cinegy develops software solutions for collaborative workflow encompassing IP, capture, editing and playout services tools, integrated into an active archive for full digital asset management. Either SaaS, virtualizable stacks, cloud or on-premises, Cinegy is COTS using standard IT hardware, and non-proprietary storage technology. Cinegy products are reliable, affordable, scalable, easily deployable and intuitive. Cinegy is truly Software Defined Television. Visit www.cinegy.com for more details.
Cinegy PR Contact:
Jennie Marwick-Evans
Manor Marketing
jennie@manormarketing.tv
+44 (0) 7748 636171