News
Akratek joining Cinegy AŞ Business Partners
Cinegy expands further with Akratek joining Cinegy AŞ Business Partners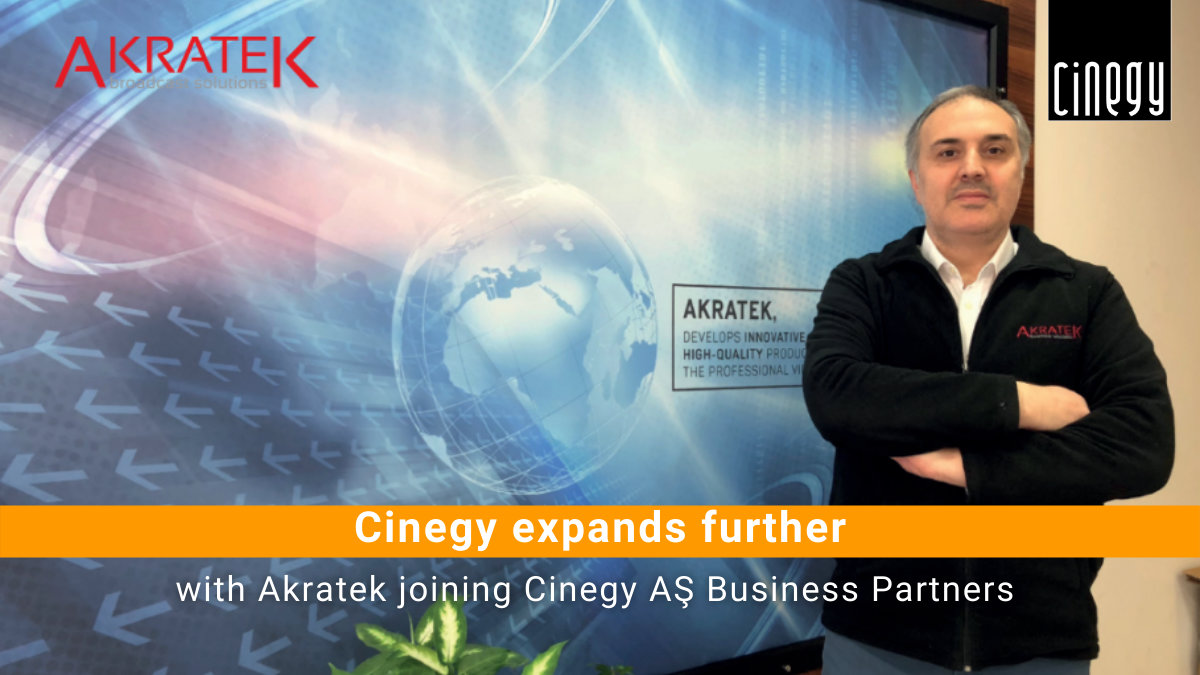 Munich, Germany, 23 February 2021: Cinegy GmbH, global leader for broadcast playout software in the cloud, is pleased to announce Akratek as the latest of its business partners. Cinegy AŞ opened in Istanbul at the beginning of 2020 and since then, the Turkish office has been busy expanding its business relationships with local service integrators and representatives.
Akratek is currently celebrating its 10th anniversary and has been serving the media industry for many years both as a system integrator and as a provider of a wide range of locally produced equipment. CEO Selahattin Acaroglu from Akratek said, "Throughout our 10 years' of business, we have worked with dozens of local, satellite and national TV channels, have helped set-up most of the university radio and television studios located in Turkey and have had the opportunity to work closely with foreign TV channels of Middle Eastern origin."
Acaroglu went on to describe how they have been following Cinegy's product developments for many years. "We are delighted that we can now offer the whole suite of their integrated and modular solutions to our customers. Cinegy AŞ has been quickly established with strong staff who know both the products and the broadcast industry very well."
Soon after the partnership agreement was signed, detailed training was given by Cinegy to the Akratek project team, enabling them to quickly get to know the products and solution opportunities – Video Server, News Automation, Archive, Editing, Graphic CG, Prompter, etc.
"Technology brands and products are very close in terms of functionality and quality" Acaroglu continued, "And in the field of automation, it is not easy to find companies who can provide a wide range of integrated solutions. Cinegy, as a brand, can satisfy customers easily with an efficient workflow, ease of installation and local support.
Software and information technology infrastructures have become indispensable parts of the media world. Conventional device manufacturers cannot easily adapt to the fast-paced IT developments such as the move to UHD and 8K. Software-based products like those offered by Cinegy, however, are developing faster with high added value.
Murat Küçüksaraç COO of Cinegy AŞ confirmed, "We are delighted to strengthen our existing business by welcoming Akratek to our partner infrastructure. Their knowledge and experience perfectly complement the other partners, as well as our focus, and we are looking forward to working with them more closely in the future.
Cinegy's customer portfolio in Turkey consists of many of the largest local media groups, training institutions and corporate customers. With its business partners, Cinegy AŞ can better respond to its customers' ever-changing and developing workflow and transformation needs faster and with a better quality of service.
###
About Cinegy
Cinegy develops software solutions for collaborative workflow encompassing IP, capture, editing and playout services tools, integrated into an active archive for full digital asset management. Either SaaS, virtualizable stacks, cloud or on-premises, Cinegy is COTS using standard IT hardware, and non-proprietary storage technology. Cinegy products are reliable, affordable, scalable, easily deployable and intuitive. Cinegy is truly Software Defined Television. Visit www.cinegy.com for more details.
About Akratek
Akratek Elektronik is a broadcast system integrator. Akratek, which has established its team entirely from experienced experts graduated from their own fields, has Electronic Communication Engineers, Cinema TV and Computer Department graduates, Radio TV Technologies technicians. Having strong sales and technical service departments, Akratek Elektronik offers its customers economical and reliable solutions. After completing the complete sales and installation of all products that make up a project, Akratek also sells the products one by one. Akratek, which always offers and supports its customers in choosing the right product, manages to keep customer satisfaction at the highest level with its after-sales technical service. More information is available at www.akratek.com.
Cinegy PR Contact:
Claire Bushell
claire@manormarketing.tv
+44 (0)7919 128966