News
Aviteng Joins Cinegy AŞ Business Partners
PRESS RELEASE
 Aviteng Joins Cinegy AŞ Business Partners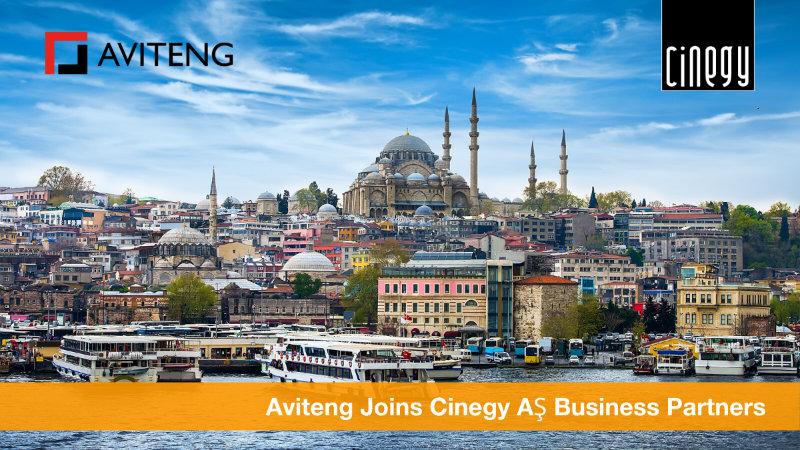 Munich, Germany, 13 January 2021: Cinegy GmbH opened its Istanbul office Cinegy AŞ at the beginning of 2020 with the aim to provide faster and higher quality services to business partners, system integrators and customers in the local market around the Cinegy workflow offerings. In spite of the Covid-19 pandemic that emerged shortly thereafter, Cinegy AŞ successfully grew and is now pleased to announce the recent addition of Aviteng to its business partners.
Undertaking successful projects as a system integrator, Aviteng continues to expand its brand and solution range with the Cinegy products.
Yücel Bakkal from Aviteng said about the partnership with Cinegy, "Globally, digital storage prices have dropped significantly in the last few years. At the same time, while the processing power of IT hardware increased, it remained more affordable. As a result, while most systems require dedicated storage or dedicated server hardware, COTS solutions have enabled us to build our systems with more capacity, greater flexibility and much lower cost using standard IT equipment based on Intel CPUs with Windows or Linux operating systems. Considering the small number of staff trained in Broadcast IT in our country, Cinegy's open structure IT equipment and software allows IT teams to adapt quickly and with ease. It also speeds up the deployment process in terms of operation. We are very hopeful that we will execute a number of digital archive projects with Cinegy systems in the coming days."
Cinegy's customer portfolio in Turkey consists of many of the largest local media groups, training institutions and corporate customers. With its business partners, Cinegy AŞ can respond to its customers' ever-changing and developing workflow and transformation needs faster and with a better quality of service.
Murat Küçüksaraç from Cinegy AŞ said about Aviteng's business partnership, "Despite the ongoing Covid-19 outbreak, as Cinegy AŞ we continue to offer our services to our customers without interruption, as well as developing our projects and business partner structure. We are delighted to strengthen our existing business partner structure by working with Aviteng going forwards."
###
About Cinegy
Cinegy develops software solutions for collaborative workflow encompassing IP, capture, editing and playout services tools, integrated into an active archive for full digital asset management. Either SaaS, virtualizable stacks, cloud or on-premises, Cinegy is COTS using standard IT hardware, and non-proprietary storage technology. Cinegy products are reliable, affordable, scalable, easily deployable and intuitive. Cinegy is truly Software Defined Television. Visit www.cinegy.com for more details.
About Aviteng
Aviteng is a system integrator made up of experienced professionals in the industry focused on meeting the long-term needs of its customers. Its purpose is to produce the most technologically efficient end-to-end solutions for its customers within the existing budgets. In addition to Turkey, Aviteng operates in the Middle East, Turkic Republics and North African countries. For detailed information about Aviteng, you can visit www.aviteng.com
Cinegy PR Contact:
Jennie Marwick-Evans
jennie@cinegy,com
+44 (0) 7748 636171