News
Cinegy and Telstra Partnership
PRESS RELEASE
Cinegy announces Telstra partnership – Telstra to expand its broadcast services using Cinegy technology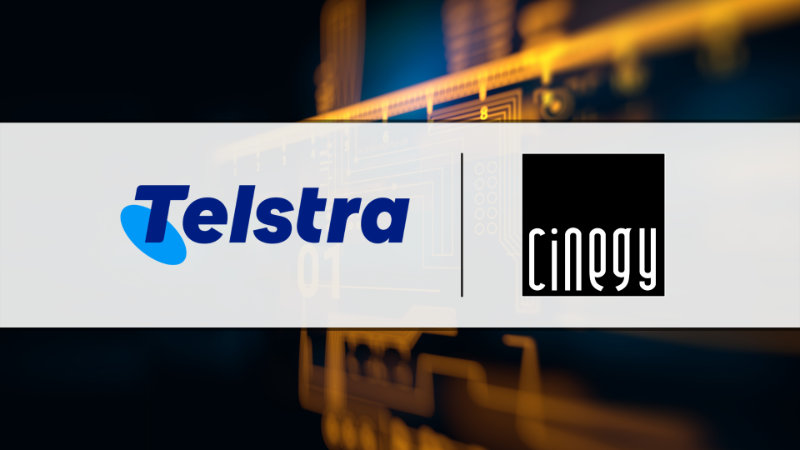 Munich, Germany, 16 February 2022: Cinegy GmbH is delighted to announce that its new customer, Telstra Broadcast Services (TBS), will be expanding its broadcast and playout service offerings based on the Cinegy platform. Cinegy is a premier provider of software technology for digital video processing, asset management, video compression and automation, and playout services.
Well-established products such as Cinegy Air, known for its scalability, efficiency as well as a feature-rich, intuitive usability, will form the backbone of Telstra's playout service offering.
The global media industry is expanding to cloud-enabled and software-defined capabilities. Adding new playout capabilities, running on Cinegy software modules, to TBS's existing global fiber and satellite networks, sets the company up to meet the evolving needs of the broadcast market.
"We're delighted to be working with Telstra to help them deliver cloud-based playout and associated services" said Daniella Weigner, Managing Director of Cinegy GmbH.  "Using Cinegy technology in conjunction with Telstra's workflow innovations will provide broadcasters with incredible flexibility to manage their content offerings through virtual environments, helping them deploy new services and channels to respond to special events, programming opportunities and new markets in these changing times."
''By partnering with Cinegy, Telstra Broadcast Services is able to remove the shackles of traditional hardware-based solutions and capex cycles that stifle innovation'' said Andreas Eriksson, Head of Telstra Broadcast Services. ''Our MediaCloud solution is setting the benchmark providing the ability to drive software with rapid ongoing development cycles, which is really powerful for our customers as it enables scale through innovation, responsive changes and agile workflows for new and existing offerings.''
Telstra Broadcast Services has already secured significant playout services in the Australian broadcast market with more customer announcements expected soon.
###
About Cinegy
Cinegy develops software solutions for collaborative workflow encompassing IP, capture, editing and playout services tools, integrated into an active archive for full digital asset management. Either SaaS, virtualizable stacks, cloud or on-premises, Cinegy is COTS using standard IT hardware, and non-proprietary storage technology. Cinegy products are reliable, affordable, scalable, easily deployable and intuitive. Cinegy is truly Software Defined Television. Visit www.cinegy.com for more details.
Cinegy PR Contact:
Jennie Marwick-Evans
Manor Marketing
jennie@manormarketing.tv
+44 (0) 7748 636171

About Telstra
Telstra is a leading telecommunications and technology company. We offer a full range of services and compete in all telecommunications markets in Australia, operating the largest mobile and Wi-Fi networks. Globally, we provide end-to-end solutions including managed media networks, managed network services, global connectivity, cloud, voice, colocation, conferencing and satellite solutions. We have licenses in Asia, Europe and the United States and offer access to more than 2,000 points of presence across the globe.
For more information visit www.telstra.com
Telstra media contacts:
Rufus Jay, Bubble Agency (EMEA/GLOBAL)
+44 (0) 7921 299 542
rufusj@bubbleagency.com