News
Cinegy collaborates with Supermicro for Turnkey Data Centre Solutions
NAB Show, April 16-19, Las Vegas, Booth N2022: Cinegy GmbH, the premier provider of software technology for digital video processing, asset management, video compression and automation, and playout, has formed a strategic collaboration with Supermicro, a leading global supplier of enterprise-scale servers. Supermicro is a well-known player in media solutions, and this alliance represents a powerful, integrated and cost-effective offering.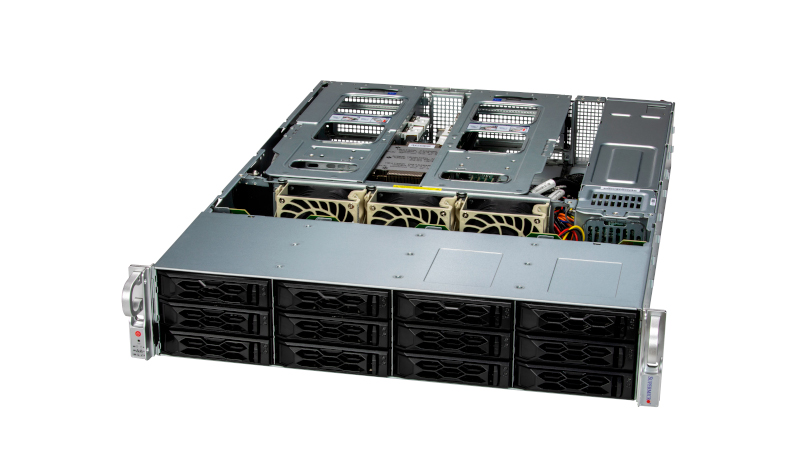 The turnkey solution will be launched at NAB 2023 (Las Vegas Convention Center, 16 – 19 April), where staff at Cinegy (booth N2022) and at the nearby Supermicro booth (N1015) will be able to discuss the integration. The key driver for the collaboration is to be able to provide systems integrators in the media space with a one-stop solution which is ready to run, highly specified for performance and, thanks to Supermicro's We Keep IT Green programme, very energy efficient.
Cinegy has a comprehensive range of video storage, processing and delivery software solutions, capable of meeting the expectations of the most demanding broadcasters at resolutions up to 8k and more. The microservices architecture of Cinegy software means that it can run a very large number of concurrent processes to deliver multiple channels and many layers of functionality, in real time, simultaneously. NAB 2023 sees new releases of key elements in the Cinegy portfolio, including the ability to freely mix SDR and HDR sources in the Cinegy Air playout platform, with individually selected conversion LUTs for each file.
Supermicro is the ideal partner, in providing its AMD Genoa CloudDC Systems with unprecedented core density in single-socket hardware for ease of integration. Its open architecture approach for memory and storage makes it ideal for the performance demands of Cinegy video processing.
"We recognize that some of our broadcast customers are, for their own very valid reasons, unwilling to move to the cloud at this stage," said Jan Weigner, managing director of Cinegy. "But running multi-channel broadcast operations, or sophisticated post-production environments, calls for a lot of processing power, and users find themselves needing a significant data centre. Supermicro's hardware architecture delivers all the power needed, and its designs for energy efficiency will appeal to our customers.
"Additionally," continued Weigner, "Supermicro's powerful hardware architecture allows Cinegy to bring products to market faster, enabling them to satisfy customer requirements faster than the industry as a whole. This means that even though some broadcast customers may not be ready to move to the cloud yet, they can still benefit from Cinegy's advanced multi-channel broadcast operations and post-production environments without sacrificing performance. Overall, Supermicro's efficient and powerful hardware solutions play a key role in helping Cinegy deliver cutting-edge solutions to their customers."
Catch up with the Cinegy team at booth N2022 at NAB2023, or find out more at cinegy.com
###
Note for editors, click here for high-resolution images.
About Cinegy 
Cinegy develops software solutions for collaborative workflow encompassing IP, capture, editing and playout services tools, integrated into an active archive for full digital asset management. Either SaaS, virtualizable stacks, cloud or on-premises, Cinegy is COTS using standard IT hardware, and non-proprietary storage technology. Cinegy products are reliable, affordable, scalable, easily deployable and intuitive. Cinegy is truly Software Defined Television. Visit www.cinegy.com for more details.
Cinegy PR Contact: 
Jennie Marwick-Evans
Manor Marketing
jennie@manormarketing.tv
+44 (0) 7748 636171
About Super Micro Computer, Inc.
Supermicro (NASDAQ: SMCI) is a global leader in Application-Optimized Total IT Solutions. Founded and operating in San Jose, California, Supermicro is committed to delivering first to market innovation for Enterprise, Cloud, AI, and 5G Telco/Edge IT Infrastructure. We are transforming into a Total IT Solutions provider with server, AI, storage, IoT, and switch systems, software, and services while delivering advanced high-volume motherboard, power, and chassis products. The products are designed and manufactured in-house (in the US, Taiwan, and the Netherlands), leveraging global operations for scale and efficiency and optimized to improve TCO and reduce environmental impact (Green Computing). The award-winning portfolio of Server Building Block Solutions® allows customers to optimize for their exact workload and application by selecting from a broad family of systems built from our flexible and reusable building blocks that support a comprehensive set of form factors, processors, memory, GPUs, storage, networking, power and cooling solutions (air-conditioned, free air cooling or liquid cooling).
Supermicro, Server Building Block Solutions, and We Keep IT Green are trademarks and/or registered trademarks of Super Micro Computer, Inc.
Intel, the Intel logo, and other Intel marks are trademarks of Intel Corporation or its subsidiaries.
All other brands, names, and trademarks are the property of their respective owners.
Media Contact: 
Greg Kaufman
Super Micro Computer, Inc.
PR@supermicro.com