News
Cinegy Multiviewer 15.2: Hail to the King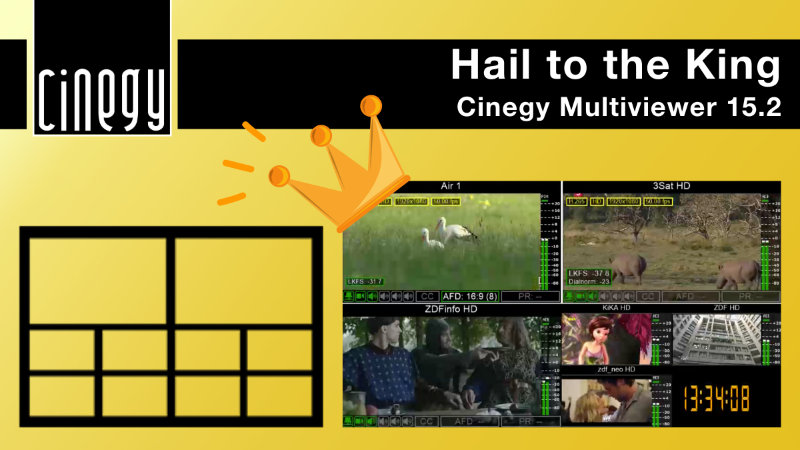 Munich, Germany, 05 August 2020: Cinegy GmbH, the premier provider of software technology for digital video processing, asset management, video compression and automation, and playout, has released the latest version of Cinegy Multiviewer 15.2, solidifying Cinegy's position as the leading IP and multipurpose multiviewer vendor.
Cinegy Multiviewer 15.2 is the most flexible multiviewer ever, great for on-premise and remote monitoring applications.
Streams from satellites, camera feeds, playout devices and other local or remote sources all need to be monitored. Cinegy Multiviewer displays and analyzes these signals, raising alerts for any detected signal problems. Running as a service operating on commodity IT equipment, video streams can be received over IP, eg UDP/RTP, NDI, SRT via Ethernet or using standard SDI cards.
Notable features introduced include latest version NDI support, using Cinegy Encode as an SDI output option, SRT encapsulated IP input and output stream inputs, and support for encrypted SRT streaming on input.
Cinegy fully supports the SRT Alliance which is visible in its entire product range. Head of Product Management Lewis Kirkaldie said, "For years the world of broadcasting has been anticipating an open and reliable technology to move signals around. Numerous attempts have been made by different enthusiasts across the industry but none of them got closer to fulfilling the requirement than the brilliant SRT."
Multiviewer Version 15.2 offers further enhancements of its SRT support with additional SRT output encryption support along with DNS resolving for SRT URL addresses.
Kirkaldie adds, "The new Multiviewer has a great many performance optimizations and compatibility enhancements to run even more reliably on the latest Microsoft operating systems, as well as embracing the latest and greatest technologies and protocols widely used in the industry."
Cinegy Multiviewer 15.2 also fully supports 8K workflows via IP or SDI. Cinegy's 8K capabilities were first deployed in 2015 upon the release of its Daniel2 codec which at the time was capable of decoding 16K video at 280 fps with an Nvidia Quadro M6000. Cinegy has further optimized and integrated Daniel2, making it ubiquitous through the software product range. Cinegy Multiviewer 15 joined Cinegy Capture PRO and Cinegy Air PRO in supporting 8K, via IP (SRT/RTP/UDP), SDI, NDI (e.g. BMD DeckLink 8K Pro) confidence software broadcast solutions when the major update v15 was released earlier this year.
For more information, see the latest release notes here.
###
About Cinegy
Cinegy develops software solutions for collaborative workflow encompassing IP, capture, editing and playout services tools, integrated into an active archive for full digital asset management. Either SaaS, virtualizable stacks, cloud or on-premises, Cinegy is COTS using standard IT hardware, and non-proprietary storage technology. Cinegy products are reliable, affordable, scalable, easily deployable and intuitive. Cinegy is truly Software Defined Television. Visit www.cinegy.com for more details.
Cinegy PR Contact:
Jennie Marwick-Evans
Manor Marketing
jennie@manormarketing.tv
+44 (0) 7748 636171