News
Cinegy partners with Tyrell to deliver powerful, cloud-based content delivery
MPTS, 10-11 May 2023, Olympia, London, UK, stand B40: Cinegy GmbH, the premier provider of software technology for digital video processing, asset management, video compression and automation, and playout, is working with Tyrell, leading solutions company in the UK and Ireland, to deliver an innovative, cost-effective playout solution. The system is rolled out as part of Tyrell Cloud, a bespoke, secure cloud service developed specifically for the needs of the media industry.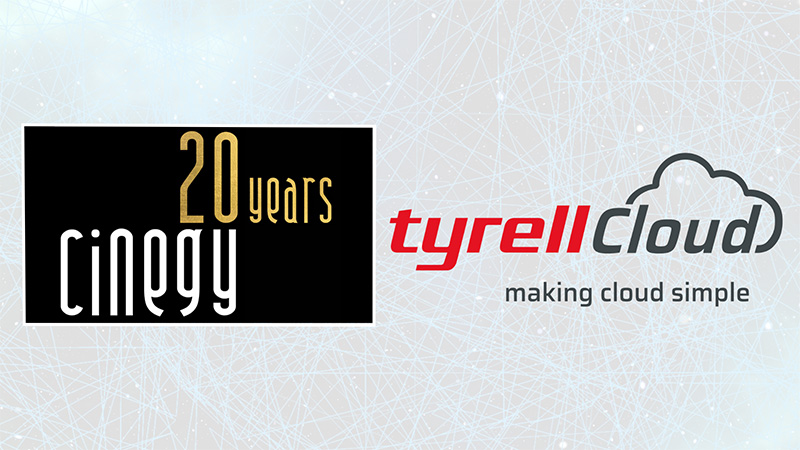 Central to the solution is Cinegy Air, the powerful realtime broadcast automation and server application. Like all Cinegy solutions it is entirely implemented in virtualised software, so is a perfect match for the vendor-agnostic Tyrell Cloud. It provides fully automated playout in any resolution up to Ultra HD and 8k, with the option to take manual control as operations demand.  
Cinegy Air is designed to take advantage of cloud hosting, including efficient hardware utilisation, instant deployment of additional channels and functionality, and inexpensive high-availability clustering. The system is intuitive to establish and run, and the first installation includes the integrated Cinegy Multiviewer. Winner of an NAB Product of the Year Award, this is known as the most flexible multiviewer ever, and provides comprehensive signal analysis, monitoring and alerts to minimise the requirement for engineers and operators while maintaining optimum signal quality. 
Cinegy Air is deployed as part of the Tyrell Cloud Capture service at The Media and Production Show, 2023. Video streams are presented from Cinegy Air in SRT format to Tyrell Cloud Capture where it is ingested ready for editing Cingegy Multiviewer provides us with a visual tally on the streams whilst Tyrell Cloud Capture allows users to manage incoming streams, benefit from visual telemetry about the streams and direct them to other services within Tyrell Cloud.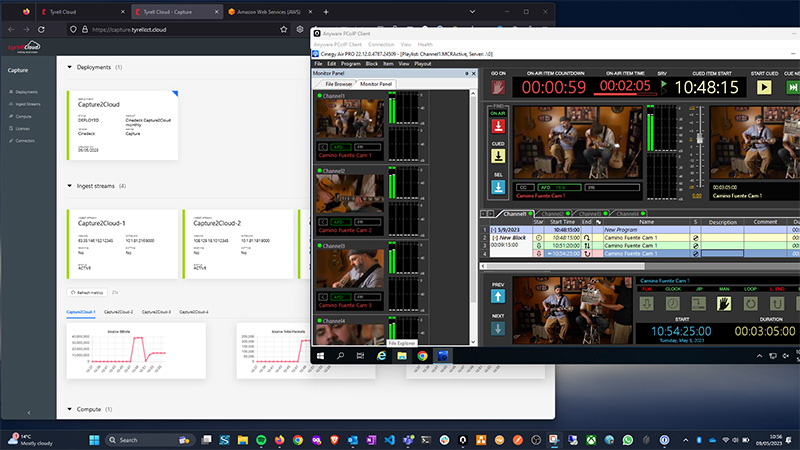 Cinegy Air in the Tyrell Cloud
Daniella Weigner, Managing Director of Cinegy, said "This is a great example of how we can work with a strong partner to create a rich solution that meets very specific needs. It really shows the benefits of well-conceived software solutions: our software and the Tyrell Cloud are both designed to be easy to integrate to create precisely tailored systems which accurately meet the user's needs. 
"Our first venture together solved a problem that is probably unique and gave the end user a solution that precisely meets their requirements, is simple to operate, and – because it really uses the cloud well – it is extremely cost-effective: far more so than any legacy solution could possibly be. We look forward to working with Tyrell on further projects which, I'm sure, will be very different in requirements but as easily solved with the Cinegy suite of software solutions." 
Tyrell will be demonstrating the Tyrell Cloud Capture service at The Media Production and Technology show on Stand B40. Information on Cinegy Air, Multiviewer and the full range of products can be found at cinegy.com 
### 
About Cinegy 
Cinegy develops software solutions for collaborative workflow encompassing IP, capture, editing and playout services tools, integrated into an active archive for full digital asset management. Either SaaS, virtualizable stacks, cloud or on-premises, Cinegy is COTS using standard IT hardware, and non-proprietary storage technology. Cinegy products are reliable, affordable, scalable, easily deployable and intuitive. Cinegy is truly Software Defined Television. Visit www.cinegy.com for more details. 
Cinegy PR Contact : 
Jennie Marwick-Evans
Manor Marketing
jennie@manormarketing.tv
+44 (0) 7748 636171 
About Tyrell  
For 23 years Tyrell has been providing video, audio, graphics, and storage solutions to the Irish and UK Broadcast, Post, Production, Corporate and Education markets. In this time, we have become the leading provider of technology and service solutions both on-premise and in the cloud. Tyrell has an excellent understanding of the fast pace and unique pressures facing the media and entertainment industry; developing solutions for complex workflows. Allowing our clients to concentrate on the creative process and business development. From our two locations we offer a comprehensive range of professional services from consultancy to system design and integration, technical support and maintenance. 
Tyrell prides itself on its unique partnerships which enable it to deliver the latest and most innovative solutions to customers.  Tyrell are official UK and Ireland distributor for Clear-Com andFileCatalyst, and are a trusted Avid Elite reseller.  The company also partners with over 30 leading suppliers including AWS, Cinedeck, Dell, EditShare, Haivision, HP, HP Anyware (Teradici), Sienna, Twizted Design and  Telestream.