News
Cinegy Partners with US Broadcast for North America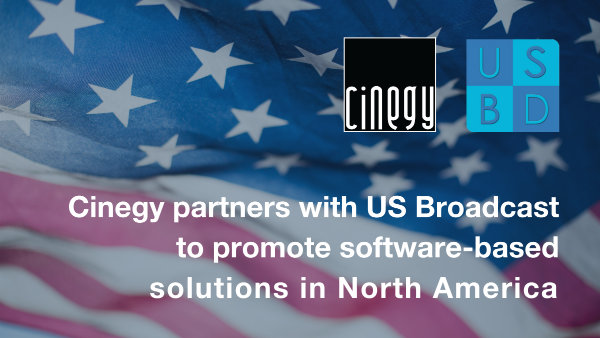 Munich, Germany, 20 May 2020 –  Cinegy, the global leader for broadcast playout software in the cloud has announced a new partnership with New Hampshire-based US Broadcast, a broadcast distributor that uses its channel marketing and technical skill sets to tailor sales for the North American market.
US Broadcast CTO Eric Pratt said, "US Broadcast is currently busy aiding resellers and customers with the technical challenges of connecting video and audio workflows, using our expertise in IP video and remote production to solve their problems. Lately, we've had an increase in enquiries with customers looking for help bridging the distance between contributors and production and we're finding Cinegy's software-based solutions are particularly relevant at this time."
"Secure Reliable Transport (SRT) in particular," Pratt continued, "is a technology that Cinegy integrates well to help meet this need in their media ingest, playout, and management. Being able to connect remote news anchors, venues, and facilities to their production workflow is important under normal circumstances, and now it's imperative. Additionally, Cinegy's software range fits perfectly with the other products in our vendor line card, making it an ideal partnership."
Cinegy Managing Director, Co-owner, and Co-founder Daniella Weigner said, "US Broadcast has a long history of working with the film, television, broadcasting, and streaming industries, for small organizations and large. They understand the unique needs of the  industry and only represent  "best-of-breed" products and services that deliver real value for their customers. We are delighted to add our product range and expertise to US Broadcast's complementary portfolio."
One part of that portfolio of particular interest to the North American facilities is Cinegy TV Pack. This high-value, low-cost studio-in-a-box includes a full license for Cinegy's industry leading Cinegy Air PRO playout software with Cinegy Titler branding, Cinegy Capture, four channels of Cinegy Multiviewer, the revolutionary Cinegy Live PRO IP video switcher, ultra-modern transcoding with Cinegy Convert and Cinegy Player, the company's vastly superior video player.
Pratt added, "Cinegy's full support across its range for SRT is a major advantage for Cinegy end users that we very much look forward to sharing with our North American customers."
More information can be found by visiting www.cinegy.com.
###
About Cinegy
Cinegy develops software solutions for collaborative workflow encompassing IP, capture, editing and playout services tools, integrated into an active archive for full digital asset management. Either SaaS, virtualizable stacks, cloud or on-premises, Cinegy is COTS using standard IT hardware, and non-proprietary storage technology. Cinegy products are reliable, affordable, scalable, easily deployable and intuitive. Cinegy is truly Software Defined Television. Visit www.cinegy.com for more details.
Cinegy PR Contact:
Jennie Marwick-Evans
Manor Marketing
jennie@manormarketing.tv
+44 (0) 7748 636171